Pour la version française, c'est là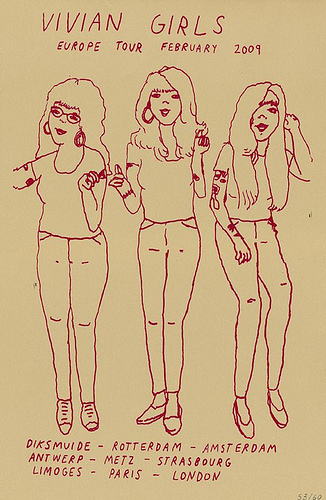 In Paris, the "Point éphémère" is the hot spot and often the place where French coolest people discover foreign bands for the first time in the city.
That night, it was also a teaser party for one of the best rock festivals, Les Femmes S'en Mêlent ("girls get into it"), that takes place in April. Before the English Battant, the Vivian girls warmed up the place by a few hundred degrees.
"Plug and play" seems to be the trio's approach to music and to the stage. Lo-fi in a cool straight manner, pure rock going straight forward with loads of fun, sincerity and just what it takes of ingenuity. Get close to the stage and you will admire the most beautiful collection of tatoos :-)
Here we are with Cassie, the lead guitar and singer of the band, for 5 questions answered from somewhere in Europe.
To complete this interview, The VGs had the kindness to share the top 10 playlist they listen on tour : listen up at Ama-L's.
"Hey! cassie here…"
Being a trio gives the impression you have a lot of musical freedom, you don't have to wonder "what will the keyboards do during this song?", and it's also easier to sound together…
It kind of just happened that way, but shortly thereafter we agreed that we really liked being a three-piece and to not add anyone else.
You finish your gig by switching instruments, it's a cool stage idea, but is it also a manner to signify it doesn't matter who's in front?
Yeah, I guess it does signify that who's up front doesn't really matter to us. But the reason we started doing that is because, like you said, we thought it would be a cool stage trick.
Although you have a 7′ titled Surf's up (a blink towards Beach boys records), you sound more garage, more Motor city in a way, than pure surf, or a in the way the Jesus & Mary Chain covered surf music.
We love both surf and garage! When we make music, though, we do try to just make the kind of music that feels natural to us.
I was always a bit surprised to connect you more easily to British artists than American ones : shoegazers like Ride (Wild eyes remembers me Ride's Paralyzed), or the Jesus & Mary chain. Are you more familiar to British music than American?
I think we're pretty well-versed with music from both sides of the pond.
Your five 7′ are published on 4 different labels ! Is it still a question of freedom and making one thing after another, or would you like to settle on a label that you could rely on?
We like the "social butterfly" aspect of having records out on all sorts of different labels. In The Red is still our main label, though.
thx Cassie :-)
Tweet
---